Because revenue management is not just about managing availability and prices on the various channels. Nor is the use of revenue management software a guarantee for successful revenue management. Revenue management is rather a holistic management concept that must be embedded in the organisation of the company and integrated into the corporate strategy. It requires a balance in the interaction of people, processes and technology. It is increasingly strategic and long-term oriented.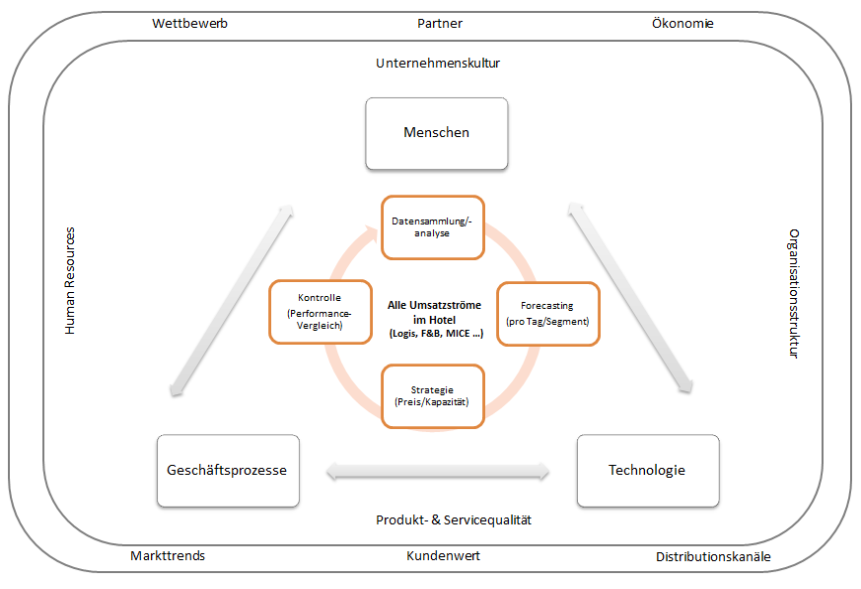 The heart of revenue management - the forecast
The prerequisite to sell the right product, at the right time, …, etc., is to know the demand and the willingness to price per day of the week and market segments. Without a stable forecast, per day/segment, a hotel cannot know if the pricing decisions are correct and the restrictions applied are reasonable or unnecessarily drive out business.
Often the heart of revenue management is missing in hotels. Decisions are made on the reservations on the books (OTB), empirical values and gut feelings.
The revenue manager's time is tied up with manually entering and updating data in Excel and creating reports for individual team members. Meanwhile, the analysis of booking patterns, daily forecasting and the derivation of strategies come up short. In the age of Big Data and a high level of dynamism, only a fraction of the data is captured and updated. The timely integration of data into decision-making processes is almost impossible.
Revenue management technologies support the forecasting process with scientific analysis methods and algorithms.
Qualified revenue managers
Many of today's revenue managers have come out of Rooms Division Management. They generally master the principles of revenue management for their strategic planning and day-to-day decisions in the logistics sector. However, strategic and technology-based revenue management requires revenue managers with strong analytical skills, strategic alignment of all revenue streams, leadership and communication skills. For the training of this new generation of revenue managers, companies, universities and training institutes are equally challenged.