A guest contribution by Michaela Jaritz
A look in the mirror or a selfie – a natural (morning) ritual for many people. What do we recognise in our face? How does it change during the course of the day? In the course of life?
People have always been fascinated by their own reflection. Whether in the surface of water, other reflecting materials and finally in the mirror. We are searching for ourselves, for recognising ourselves and discovering what was previously unknown and hidden behind the "beautiful appearance".
Works of art offer themselves for self-reflection in a similar and yet completely different way: With the help of the artwork, we dive into our inner world of feelings and associations. We connect with a work, it reflects our inner themes. This process is highly individual, direct, spontaneous and leads amazingly quickly to new insights, insights and ideas for solutions, because the works of art unconsciously make contact with us through their symbolism – and we with them.
Curious? Then you can try this out right now, using your annual balance sheet as an example, right here while reading this article. Take something to write with for your notes and then you're ready to go:
Think of the year 2021 ahead of you, your (work) situation and a question that is on your mind. Now immerse yourself in the artwork shown here and let the image sink in.
Then answer this question for yourself: "Where would I like to be in this port?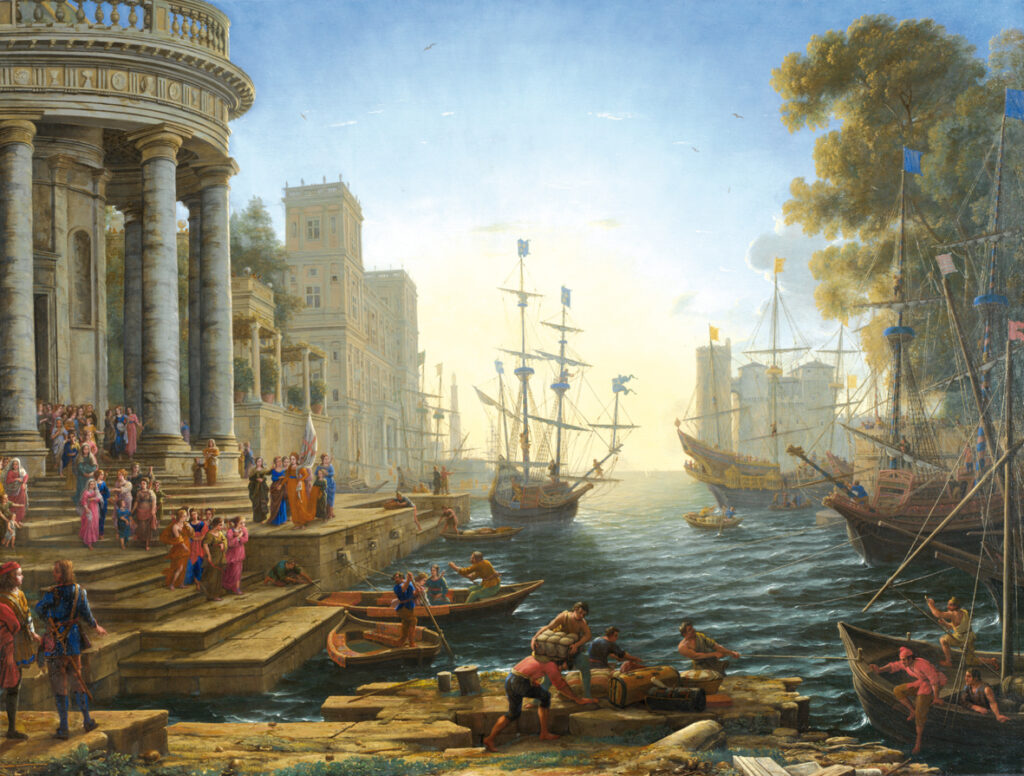 If you now place yourself with all your senses in the position you have chosen, feel inside yourself:
How do you feel in this position?
How do you feel?
What is strengthening for you?
What is possibly difficult?
If you now relate your position to your current question: Where are the other people (depending on the topic: e.g. your clients, your team, your business partners)?
How are the others doing with your position in the port?
What do the others need for the issue to develop successfully?
And what do you need for the theme to develop for you?
What are your most important findings?
Can you derive concrete measures from them?
How have you been in the last few minutes?
How well were you able to engage with this different way of looking at a work of art?
If you want to use the artwork for further reflection, you can also ask yourself the following questions:
Which themes and experiences from 2020 would I like to save as a charge and take with me into 2021?
Which people should accompany me in 2021?
Where are they currently located?
In which direction will I set sail?
What may remain in 2020 and will be unloaded or shipped elsewhere?
By answering these questions personally, this work of art – and any other – will become your very own. Use it as a companion for the turn of the year and your journey through 2021. Good luck and enjoy it.
Author: Michaela Jaritz
Michaela Jaritz has been working as a coach and trainer since 2016, focusing on self-reflection, self-leadership and leadership. Prior to that, she worked for over 20 years in various positions in marketing and sales at Microsoft Corporation in the USA and Microsoft Deutschland GmbH.