The origin of yield management is traced back to the deregulation of commercial air transport in the United States in the late 1970s. With segmented pricing and capacity management, airlines began to introduce different booking classes and fares and set the price per seat according to daily demand.  In the 1980s, yield management was introduced in the hotel industry in North America and the large hotel companies started with revenue management.
What is the difference between yield management and revenue management?
The terms are often used synonymously. However, the revenue management approach goes beyond mere capacity and price control. Yield management is rather a part of revenue management. Revenue management is a holistic management concept that requires an optimal balance of people, processes and technology. It is increasingly applied to other revenue sources in the hotel. Revenue management requires a deeper understanding of customer value, operational costs, distribution landscape and costs, and the competitive market.
For whom is revenue management suitable?
Revenue management is suitable for companies or areas that:
have relatively rigid, fixed capacities (hotel rooms, event rooms, treatment rooms),
i.e. have "perishable" capacity or no storage capacity,
can divide guests into homogeneous market segments,
are subject to strong fluctuations in demand
offer the possibility of advance bookings
have low marginal costs for the provision of services and
face high fixed costs for capacity expansion.
What is the main objective of revenue management?
The principle of revenue management describes the main objective simply and clearly: to sell the right product, at the right time, to the right customer, at the right price, through the right channel.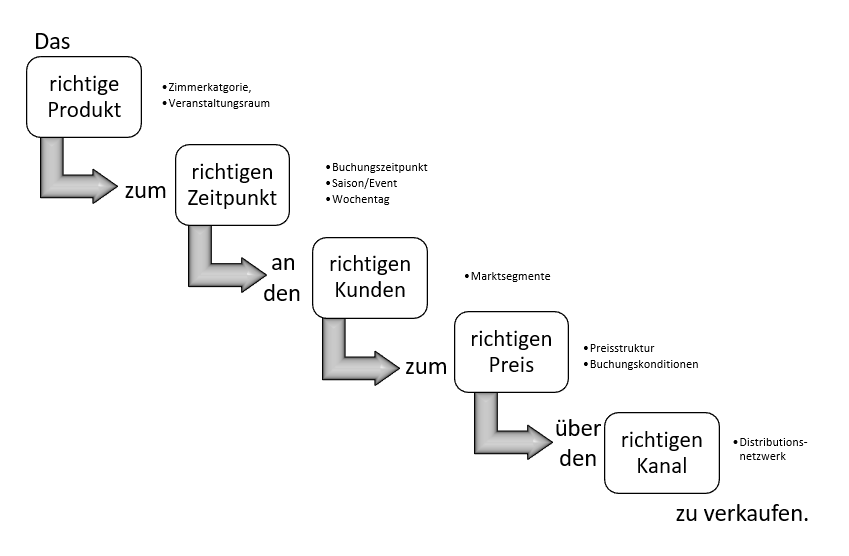 This is based on data analyses of historical and current booking trends as well as forecasts of expected demand and price willingness in order to optimise the capacity of the respective product as well as the price and to achieve the highest possible turnover.