The hospitality industry is a constantly evolving sector that is continuously faced with change and exposed to constant transformation. Crises accelerate change. Adaptability and agility are becoming increasingly important.
More than ever, Charles Darwin's statement is valid for hotels.
It is not the strongest companies that survive, nor the most intelligent ones, that are the ones most able to adapt to change.
At the latest with the pandemic, digital transformation is an integral part of everyday hotel business. However, digital transformation does not only refer to the transition to individual online applications but is rather a holistic change process.
Nevertheless, many planned projects fail or come to nothing. There are many reasons for this: In addition to insufficient project management, imprecise targets, unclear areas of responsibility or ineffective communication, hotels often lack documented processes.
A structured and effective change management helps with the digital transformation.
What is Change Management?
Change management is the ongoing adaptation of strategies, structures and processes of a hotel to changed framework and environmental conditions. The aim of change management is to guide and support the staff, management, and all other stakeholders in adopting and implementing change, including digital change, in their working environment.
What are the key factors in change management?
It is about gathering the employees where they currently are, arousing their interest and releasing their energies. It is important to create trust, to promote thinking in processes rather than structures, and to achieve networking of information through effective communication.
Phases of the change management process
1. Analysis of the current state and identification of improvements
A deep analysis of the current process is the basic prerequisite; it helps to break down the respective process in detail and identify possible improvements. In hotels, many processes such as check-in/check-out are often not documented.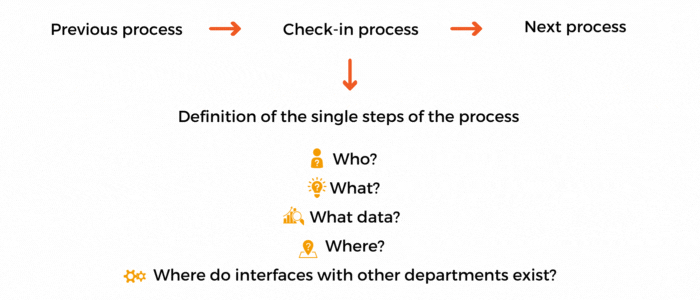 A standardised, documented process allows this process to be automated.
2. Planning and conception of the change
Clarity of objectives is an essential point for a successful (digital) transformation. A clearly formulated objective makes it possible to make THE objective tangible for those involved as well as to derive strategic and operational measures per participant. In addition, the new processes are worked out and task areas are planned.
Example:
Reduction of queuing at peak times and increase of service comfort for guests through a more efficient check-in process.
3. Support and coaching of the participants
It is necessary to qualify those responsible for the project and provide them with the necessary know-how for the implementation of professional change management. Often, support is provided by external consultants.
4. Implementation of the change processes
Active support for those involved is also necessary during the implementation phase. The aim is to remove obstacles and concerns, to drive the changes forward and to promote effective communication in order to achieve the planned target state.
The permanent review of progress is done with a view to the achieved goals.
Digital transformation brings processes to a higher level of efficiency. The automation of processes optimises time and human resources and leads to cost savings and new revenue potential through improved guest orientation.