Artificial intelligence (AI) is playing an increasingly important role in the hotel industry. It offers many opportunities in the hotel industry to improve the guest experience, optimise processes and reduce costs.
AI in revenue management was one of the TOP topics at ITB 2023
Artificial intelligence was also in the spotlight at ITB 2023 with new and improved applications for the hospitality industry.
AI systems can collect and analyse guest data to create personalised offers and prices as well as recommendations. This way, guests can be served individually and their satisfaction can be increased.
Through the use of chatbots and voice assistants, guest enquiries can be answered automatically, and around the clock, and bookings can be managed. The employees are relieved in this way.
AI helps to automate various processes in the hotel, the control of room temperature and lighting, are already an integral part of the planning of new projects.
AI in revenue management helps to better optimise prices and maximise the hotel's profits.
AI-based revenue management systems
AI-based revenue management systems are used in all phases of the revenue management cycle.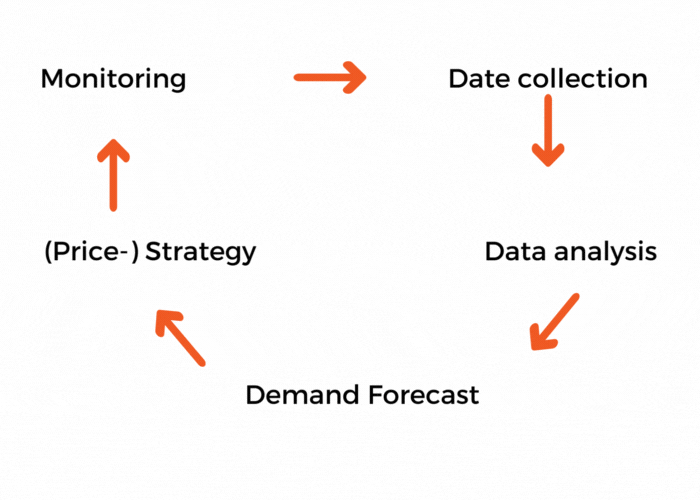 Data preparation and analysis
AI can collect and analyse large amounts of data such as bookings, cancellations, demand and competitor data. Revenue managers can make informed decisions and adjust pricing strategy accordingly.
AI can create complex forecasting models to predict future demand and availability of rooms. This allows revenue managers to take early action to adjust prices and optimise the hotel's overall revenue.
Dynamic and automatic price optimisation
AI-based revenue management systems adjust prices automatically and in real time according to demand and willingness to pay. Factors such as seasonality, weekday patterns, events, competitor data are taken into account. In this way, hotels can maximise their revenue.
Overall, AI in revenue management can help increase the efficiency, precision, personalisation, flexibility, automation and competitiveness of hotels.